28.02.2023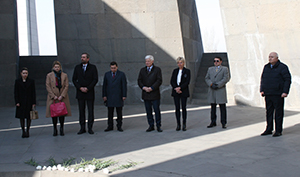 On February 28, the delegation led by Deputy Speaker of the Chamber of Deputies of the Grand Duchy of Luxembourg, Deputy Chairman of the Bureau of the Chamber, Djuna Bernard, visited the Armenian Genocide Memorial, accompanied by Sona Ghazaryan, head of the Armenia-Luxembourg Friendship Group of the RA NA, and Tigran Balayan, RA Ambassador Extraordinary and Plenipotentiary to the Grand Duchy of Luxembourg.
The guests were welcomed by AGMI Director Harutyun Marutyan, who narrated the history of the creation of the Memorial. He also presented the guests with the history of the three khachkars placed in the Tsitsernakaberd area in memory of the Armenians who died in the massacres in the cities of Sumgait, Kirovabad (Gandzak) and Baku in the last century organised by the Azerbaijani government, and the stories of the five freedom fighters buried in front of Hushapat during the Artsakh war, emphasizing the connection between what happened and the Armenian Genocide.
Madam Djuna Bernard laid wreaths at the Genocide monument, after which the guests put flowers at the Eternal Fire and observed a minute's silence in memory of the innocent martyrs of the Armenian Genocide.
Harutyun Marutyan also told them about Hushapat, at the back of which, in special niches, in small jugs, soil taken from the graves of a number of foreign public figures, politicians, intellectuals and missionaries are being placed, who raised their voice of protest against the massacres and deportations of Armenians carried out by the Turkish government in the late 19th and early 20th centuries.
They also toured the Armenian Genocide Museum accompanied by AGMI senior guide Hasmik Martirosyan, becoming acquainted with the permanent and temporary exhibitions there.
Expressing her gratitude for the visit, the AGMI Deputy Scientific Director Edita Gzoyan, gifted Mrs. Djuna Bernard books about the Armenian Genocide.
By the way, as part of the Luxembourg delegation, Claude Wiseler, a member of the Bureau of the Chamber of Deputies, visited our country for the first time; the party led by him was the author of the resolution of Armenian Genocide recognition by the Chamber of Deputies of Luxembourg in 2015, as well as the pro-Armenian resolutions adopted by the Luxembourg Parliament during and after the 44-day war.