28.06.2023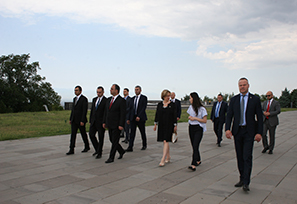 On June 28, the delegation led by the Executive Director of the European Union Law Enforcement Cooperation Agency (Europol) Catherine De Bolle visited the Armenian Genocide Memorial, accompanied by the RA Minister of Internal Affairs Vahe Ghazaryan and RA Ambassador Extraordinary and Plenipotentiary to the Kingdom of the Netherlands Tigran Balayan.
The delegation was greeted by Lusine Abrahamyan, the AGMI Deputy Director for Museum Affairs, who narrated the history of the creation of the Memorial. She also presented the guests with the history of the three khachkars placed in the Tsitsernakaberd area in memory of the Armenians who died in the massacres in the cities of Sumgait, Kirovabad (Gandzak) and Baku in the last century organised by the Azerbaijani government, and the stories of the five freedom fighters buried in front of Hushapat during the Artsakh war, emphasizing the connection between what happened and the Armenian Genocide.
Both Catherine De Bolle and Vahe Ghazaryan laid wreaths at the memorial complex, after which the accompanying guests put flowers at the Eternal Fire and observed a minute's silence in memory of the innocent martyrs of the Armenian Genocide.
The delegation then toured the Armenian Genocide Museum, accompanied by Lusine Abrahamyan, and became acquainted with the permanent and temporary exhibitions. Afterwards Catherine De Bolle left a note in the Memory Book for Honorable Guests.