28.11.2019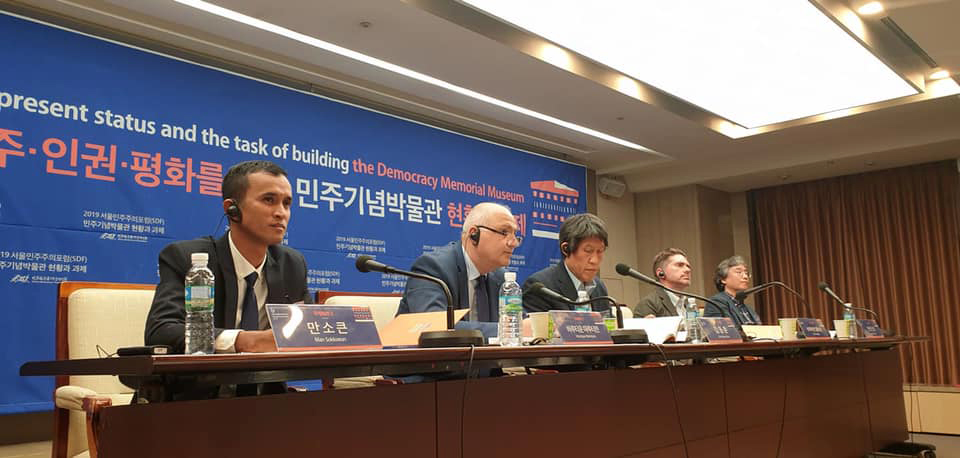 On 18-22 November 2019, Director of theArmenian Genocide Museum-Institute Harutyun Marutyan participated in "2019 Seoul Democracy Forum," which was organized by the Korea Democracy Foundation. Dr. Marutyan presented a speech titled "Armenian Genocide Monument and Museum as a Civic Education Tool".
The Democratic Foundation of Korea has been formed to promote democracy implementing various programs aimed at preserving the memory of the democratic movement, including those carried out through memorial structures. One of the Foundation's primary tasks is the establishment and operation of the Democracy and Human Rights Memorial. The foundation also collects, digitizes, researches materials, items related to the history of the democratic movement, and organizes publications.To this end, the KDF also sets the task of getting acquainted with the positive and negative experiences of the international expert community of memorial museums and complexes. This is an opportunity for the civil society in the Republic of Korea to study, learn from the presentations of experts in the field. Because it is very important to teach history to future generations, give them knowledge on specific manifestations of human rights abuses, such forums are assessed as vital. In particular, in 2019 Forum experts from the United States, Germany, Cambodia and Taiwan were present and delivered speeches. Korean professors and experts were among the speakers.
In his speech, Harutyun Marutyan presented the history of construction of the Armenian Genocide Memorial and the past half-century not only as preserving memory and passing it to future generations, but also as a transfer of generational civic education and fundamental civic values. In particular, the story of the construction of the memorial in itself is an example of the struggle against human / national rights, the result of civil disobedience, civic courage, and behavior in Soviet times. That is, by presenting the history of the memorial, the essence of totalitarian systems is presented, and the need to combat them, stress the importance of the fight for fundamental human rights and freedoms, and the role of every citizen as an important part of building a healthy society. The report also touched upon the theme of patriotism as a phenomenon accompanying the struggle for democracy, with three other elements pointing to the link between the past and the present in the territory of the memorial: Khachkars dedicated to the memory of the victims of the 1988-1990 massacres in Sumgait, Kirovabad (Gandzak) and Baku, the Memorial Park testifying to the process of international recognition of the Armenian Genocide, and the graves of soldiers killed in Armenian-Azerbaijani border battles. It was presented how the April 24th annual marches on the territory of the Genocide Memorial during the KarabakhMovement turned into manifestations of civil disobedience. Museum exhibits presenting the themes of violence against women and children during the Genocide were highlighted as manifestations of human rights abuses and violations.
Speeches and discussions during the forum have already been published in a separate collection (Korean and English), have been recorded and will be posted online.