29.01.2021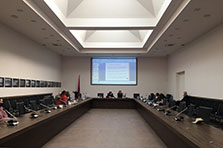 On 29 January, methodological seminar
"Armenian Genocide and Jewish Genocide: Relationship Issues"
took place at the Armenian Genocide Museum-Institute, dedicated to the anniversaries of the liberation of the Auschwitz-Birkenau concentration camp and end of World War II.
A welcome speech was delivered by AGMI Director
Harutyun Marutyan
, who emphasized the importance of Remembrance Days in preventing such crimes.
The head of the Jewish community of Armenia
Rima Varzhapetyan-Feller
greeted the audiences and gifted to the AGMI scientific library a book entitled
"The Jews of Noah's Land"
.
The event included three presentations. AGMI Educational Programs Researcher, Applicant
Regina Galustyan
presented some ideological commonalities in the implementation of Armenian and Jewish Genocides, drawing comparisons between Nazism and Turkism, the existence of three phenomena was emphasized in particular: racism, social Darwinism, and the eugenics in the two ideologies, and their application during the Armenian Genocide and the Holocaust.
AGMI Deputy Director
Edita Gzoyan
in her report referred to the development of the concept of crimes against humanity. She presented the joint statement of France, Russia and Great Britain of 24 May 1915, where the violence against the Armenian people was described as a "crime against humanity and civilization", and the activities of the International War Crimes Commission set up during the Paris Peace Conference in 24 January 1919, as well as the relevant articles of the Treaty of Sevres, bringing the development of the concept to the Nuremberg trials. The speaker emphasized that the Armenian Genocide had a significant impact on the development of some concepts of international law.
Inesa Stepanyan
, a researcher at the Department of AGMI Comparative Genocide Studies after Vahagn Dadryan, presented the activities of the Teshkilat-Mahsusa and "SS" as main force agencies implementing the Armenian and Jewish genocides drawing comparisons between the methods of murder used.
Thus, the reports presented referred to the existing historical, legal, ideological and other similarities and differences between the Armenian and Jewish Genocides, their implementation mechanisms, and offered comparative analyzes.
Detailed information on both the seminar and AGMI activities can be found on
AGMI official Facebook page.
* When in 27 January 1945, Soviet troops liberated the Auschwitz camp, there were 1,200 prisoners left in Auschwitz I, 58,000 in Auschwitz II-Birkenau, and 600 in Auschwitz III-Monovits. Days before the liberation, as Soviet troops advanced, the SS evacuated the Auschwitz concentration camp and sub-camps, forcing some 58,000 prisoners to walk south through the snow to German concentration camps. SS killed at least 1.1 million out of 1.3 million to 1.5 million people deported to Auschwitz camps. Some 200,000 prisoners survived Auschwitz as forced laborers, but more than half did not survive the war and later died elsewhere. Auschwitz-Birkenau was one of five centers that were set up by German SS and police in the occupied territory of Poland by Germany.
Department of External Relations and Media