30.03.2015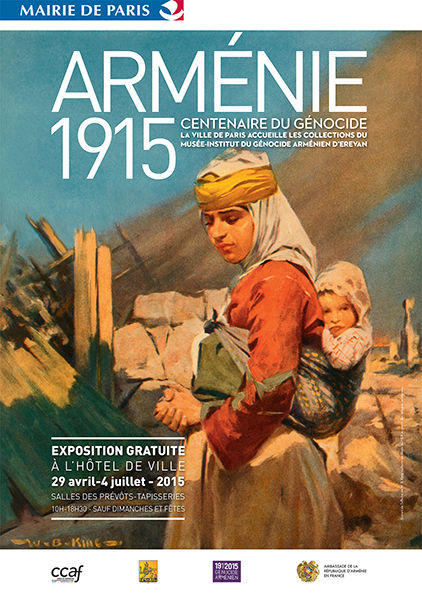 On April 29, 2015 a temporary exhibition dedicated to the Armenian Genocide Centennial will be opened in the Paris Municipality.
"Armenia 1915: Paris hosts the collection of the Armenian Genocide Museum-Institute of Yerevan"
exhibition will run from April 29 untill July 4.
Simultaneously in two halls of Hotel de Ville of Paris Municipality exhibits and photos presenting shocking fragments of the genocide committed against the Armenians in the Ottoman Empire at the beginning of the 20th century will be shown.
"This is really a unique event for the museum. Realizing the importance to be represented with such unparalleled exhibition in Paris, we have decided to present unique exhibits in the capital of France, which I am sure, will trigger great interest. I want to express my deepest gratitude to the Paris Municipality for such opportunity, as well as to the Embassy of the Republic of Armenia in France for assisting in organizational matters",
- the AGMI director Hayk Demoyan notes.
Nearly 150 exhibits form the Collection of the AGMI are involved in this exhibition and each of them contains unique information about different fragments of human tragedy. These exhibits, the majority of which are being displayed for the first time out of Armenia, involves personal belongings of genocide victims and survivors, documents, diaries, photos, newspapers, memorabilia of foreign relief organizations for fundraising and other original material.
"This is for the first time that so many exhibits of the Armenian Genocide Museum will be displayed out of Armenia, which is an important event for raising the awareness about the topic of the Armenian Genocide in foreign countries, as well as presenting the museum's unique exhibits to the wide audience",
- mentions Gohar Khanumyan, the head of the library of the AGMI.
A collection of the Armenian Genocide survivor Aurora Mardiganian has a unique place in the exhibits presented by the AGMI, the originals of which will be displayed for the first time namely during Paris exhibition. The exhibition involves the posters of the silent film "Auction of Souls" where Aurora Mardiganian played herself, as well as photos, personal belongings, releases and other unique items. The film was screened at Salle Gaveau hall of Paris in 1919.
"The French premiere of the film was a part of an artistic matinée organized by Armenophile Duchess de Rohan and Baroness Cochen. The entire income generated from the screening was allocated to the orphan care work",
- the deputy director of the AGMI Lousine Abrahamyan notes.
Documents and photos from the Paris Nubarian Library are also included in this exhibition.
The Paris exhibition was assisted by benefactor Jevan Cheloyants.
The expenses associated with the translation and publication of exhibition related four books were covered by ACBA-CREDIT AGRICOLE bank.