30.10.2015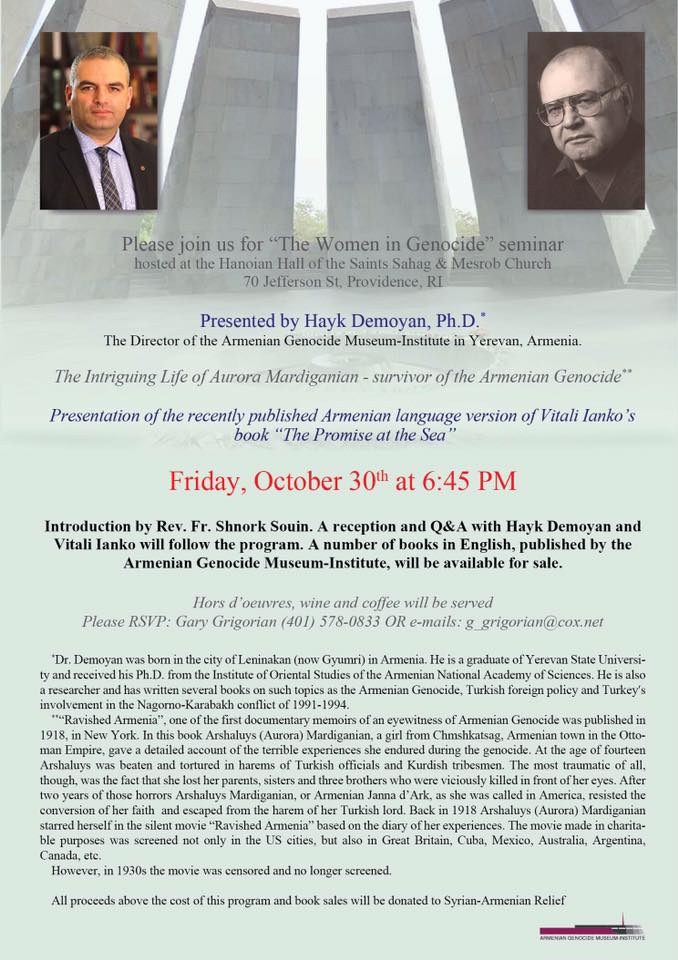 On 30 October, in American city of Providence launches a seminar under the title "The Women in Genocide".
AGMI Director, Doctor of historical science Hayk Demoyan will present a report titled "The intriguing life of Aurora Martikanian- survivor of Armenian Genocide".
On the same day the presentation of the book "The Promise at the Sea" by Vitali Ianko will take place. The book was recently translated and published by AGMI. At the end of the program a meeting will be held with Hayk Demoyan and Vitali Ianko. There will be the possibility to obtain some of the English publications of AGMI.
In October-November, Armenian Genocide Museum-Institute will organize a series of charity lectures and presentations. Lectures and charity presentations will take place in Moscow, Providence, Boston, Paris and Beirut. In cooperation with Lebanese local committee of Armenian Genocide centennial events charity lectures, presentations and exhibition will be organized in Beirut under the title "Memory Week".
The initiative aims to allocate the donated funds to Syrian-Armenian community.