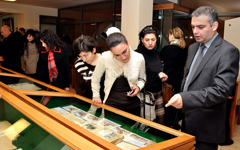 On November 29 exhibition dedicated to the 1050 anniversary of the proclamation of Ani as the capital of Bagratid Armenia opened in the History Museum of Yerevan.
Documents, photos, canvases, books, postcards and maps concerning the history of the historical capital Ani were presented at the exhibition. The exhibition items were brought from the Armenian National Gallery, National Archive, Armenian Genocide Museum-Institute and Yerevan History Museum.
The director of Yerevan History Museum Armine Sargsyan, the director of the Armenian Genocide Museum-Institute Hayk Demoyan and the director of the Institute of Archeology and Ethnography Pavel Avetisyan made their opening speeches.