31.03.2015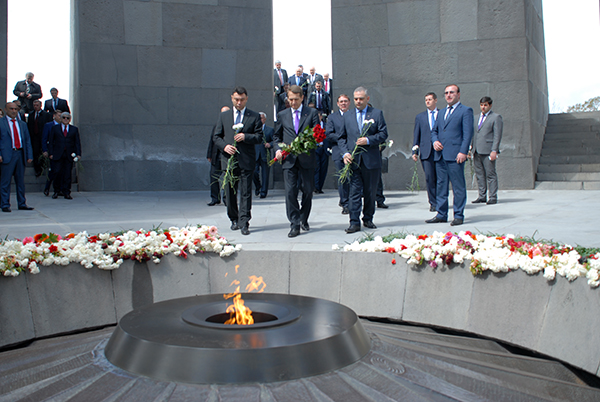 Within his working visit to Armenia (March 30-31) the Chairman of the State Duma of the Federal Assembly of the Russian Federation Sergey Naryshkin visited Tsitsernakaberd - the Armenian Genocide Memorial Complex, accompanied with RA NA Deputy Speaker Edward Sharmazanov.
The Armenian Genocide Museum-Institute Director Hayk Demoyan presented to the guests the story of the Armenian Genocide and the memorial Complex.
The Chairman of the State Duma Sergey Naryshkin laid a wreath at the monument. Than the Russian guests put flowers at the eternal fire and honored the memory of the innocent victims with a minute of silence.
At the end of the visit the AGMI Director handed to the Chairman of the Russian State Duma the Golden Medal of the museum which is presented to high-ranked official guests, as well as his latest published books; "Armenian Genocide: Front Page Coverage in the World Press" and "Turkey's Foreign Policy and the Conflict of Nagorno Karabakh".