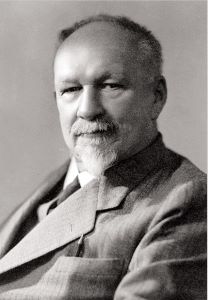 He was a missionary, doctor and nurse, a protestant deacon, eyewitness of the Armenian Genocide and the rescuer and caregiver of thousands of Armenian orphans and widows. All this is about Jacob Künzler, a Swiss. He served in Urfa for about 50 years and later in Ghazir (Lebanon), helping thousands of people, most of whom were Armenians.
Künzler's 28 "pre-Eastern" years were perhaps a long preparatory journey for his future work which was completed with honor. Losing his parents at an early age, he initially worked as a carpenter then, after studying in Basel, became a doctor's assistant and nurse. All this prepared him not only professionally, but also in terms of "humanity." Künzler knew, from his personal experience, what it meant to be an orphan from an early age.
Johannes Lepsius' German Eastern Mission offered Jakob Künzler the position of doctor's assistant at the organization's hospital near the orphanage in Urfa in 1899. He was able to gain the respect and trust of the local multinational population thanks to his humane and professional qualities.
Künzler was always in Urfa, which was one of the centers of the genocide against Armenians, during the Armenian Genocide. He not only witnessed all of it, but also tried to help, as much as he could, Armenians who fell victim to the Turkish authorities. He later took part in the liberation of Armenian women and children held by Muslims.
The German Eastern Mission, as a representative of that defeated country, was forced to cease its activities in Turkey at the end of WWI. Künzler, at that time, played an important role in preserving the buildings belonging to the German orphanage in Urfa and in improving the situation of the Armenians who took refuge there.
Künzler returned to Switzerland in 1919, but was in Urfa once more in 1922, this time as an employee of the Middle East Relief organization, caring for Armenian orphans. In the spring of that same year, the Middle East Relief Fund, taking the unfavorable situation in Turkey into account, decided to transfer the Armenian orphans in its care to Greece, Caucasus, Syria and Lebanon. Künzler 's great experience was more than appropriate for that work; by November 1922 he had transferred about 8,000 Armenian orphans to Syria from Urfa, Mardin, Diyarbakir, Kharberd, Arabkir, Akn and Malatya.
Continuing his cooperation with the Middle East Relief Fund, Jacob Künzler became, in February 1923, director of the orphanage in Ghazir, Lebanon, which housed 1,400 Armenian orphans.
Künzler joined the Swiss Armenian Relief Society in 1928 and continued to aid Armenians in need. Throughout his career, Künzler surrounded Armenian orphans with care and warmth, trying to alleviate the suffering of children who had experienced the bitterness of becoming orphans. He did not, however, take advantage of this approach to maintain a high level of discipline among the orphans at the time. He also always tried to prepare the orphans under his care, as far as possible, for an independent life by educating them and teaching them a trade.
Armenians refer to him as "Papa Künzler" because of his selfless activity spread over many years. It should be noted that he was accompanied by his faithful wife, Elizabeth Künzler (nee Bender), who was equally loved by Armenians and always shared the difficulties and hardships of her husband's life throughout his entire period of service in the east.
Aram Mirzoyan
Senior researcher, AGMI
Jacob Künzler with Armenian orphans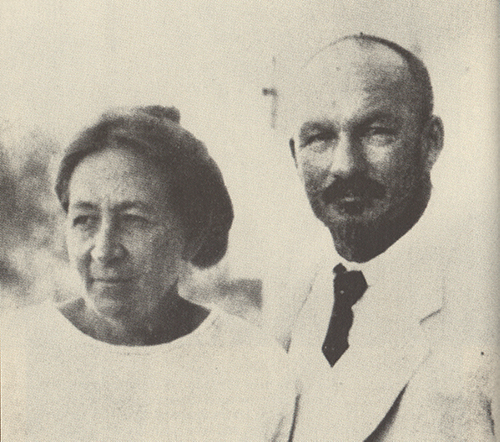 Jacob Künzler ("Papa") and his wife Elizabeth ("Mama")