It is impossible today to imagine human society without technological development. Innovation and technological advancement bring rapid changes in almost all spheres of human activity, including that of the military. However, the latest technological means, with all their advantages, can pose a great danger both for humanity generally and for certain groups of people, depending on their application. This applies, in particular, to unmanned aerial vehicles or drones that may appear in the hands of terrorist groups or in those of governments that tend to use them for specific targets.
In case of drones, the risk factor is great, as some of them can be created in a short period of time using only limited resources. At the same time, remote control allows drone operators to avoid casualties. One can also already imagine the destabilizing danger posed by state-produced drones equipped with state-of-the-art capabilities.
The issue of their use is especially urgent at this stage, when we are witnessing the spread of the Covid epidemic, as a result of which the global economic crisis and escalation of social tensions at a global level are fomenting a number of national, ethnic and religious conflicts.
In this respect the aggression unleashed by Azerbaijan in the 44-day war in Artsakh last year is remarkable, in which drones played a big role. The Azerbaijani armed forces used drones to destroy Armenian military forces and armored vehicles, as well as using them widely to target civilian settlements and the population, to damage cultural and educational centers and infrastructure, thus creating a serious ethnic cleansing and genocide threat.
For example, during the hostilities, Azerbaijani armed forces hit the Ghazanchetsots Cathedral in Shushi with the help of drones (1). Moreover, the Azeri forces used drones to target Stepanakert, the capital of Artsakh (2) and other main settlements, including Askeran, Martakert, Martuni, Hadrut and Shushi. In addition to the numerous examples of damage to the infrastructure, drones were also used to target some schools (3).
The issue, however, did not end only with the targeting of Artsakh Armenians using drones; the Armenian population of the border regions of the Republic of Armenia was also targeted by drones used by the Azerbaijani armed forces (4). It should be noted that targeted attacks by Azerbaijani drones on the civilian population of Armenia and Artsakh are gross violations of international law (5).
It is not accidental that German Bundestag deputy Steffen Kotré, who visited Artsakh during the war with his parliamentary colleagues, described what they saw in Artsakh as a "drone genocide." "They are trying to commit genocide among the population of Artsakh using drones," said Kotré (6).
It is noteworthy that after the term "drone genocide" was introduced, the Azeri «Бакинский Бульвар» (Bakinskiy Boulevard) Russian-language media channel actively disseminated Azerbaijani Defense Ministry videos showing how Turkish "Bayraktar" drones were used to destroy Armenian military forces and armored vehicles. These videos were circulated under the following titles: "The Ministry of Defense made the audience happy with a new drama series called 'Drone Genocide,'" "New series of Drone Genocide," etc. (7).
Thus, there is a need to establish international mechanisms of accountability and sanctions for targeting civilians using drones, neutralizing and punishing the threat of ethnic cleansing. If this problem is not solved, it will grow greater with the improvement of drones, when they will be able to act autonomously and target people, being equipped with artificial intelligence technology. This issue is very important as in Turkey the construction of new drones, based on artificial intelligence, has already started (8).
Narek Poghosyan
Researcher at the Department of Comparative Genocide Studies
of Armenian Genocide Museum-Institute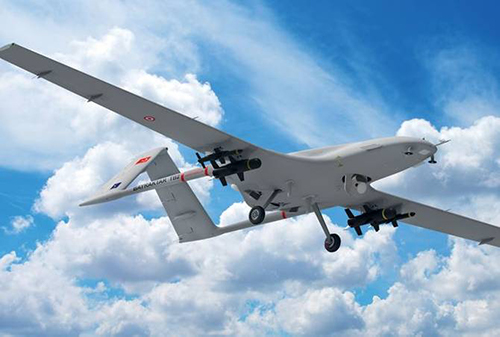 Turkish "Bayraktar TB2" unmanned aerial vehicle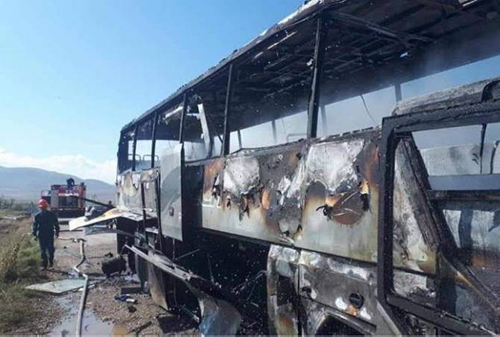 A civilian bus burned Vardenis after being hit by an Azerbaijani drone down in
_________________________________
1. The condition of one of the Russian journalists injured in the rocket attack on the Ghazanchetsots Cathedral in Shushi is critical," 8.10.2020, https://armenpress.am/arm/news/1030925.html, Human Rights Watch, "Azerbaijan: Attack on Church Possible War Crime," https://cutt.ly/4l2zgGY.
2. "Azerbaijan attacks the capital Stepanakert with drones and missiles: Beglaryan," 07.10.2020, https://cutt.ly/ul2zxid.
3. "There are more than 50 wounded in Artsakh, all are civilians," 27.09.2020, https://cutt.ly/yl2zEvQ.
4. RA Ministry of Emergency Situations, "Azerbaijani drones targeted civilian infrastructures," 17.10.2020, http://mes.am/hy/news/item/2020/10/17/1747/, "Sotk and Kuti schools damaged by Azeri drones strikes," 19.10.2020, https://www.azatutyun.am/a/30900631.html.
5. See RA ombudsman's extraordinary report on targeted attacks by Azerbaijani drones on the population of Armenia and Artsakh as gross violations of international law, https://cutt.ly/6l2zSUV.
6. The population of Artsakh is subjected to genocide through drones, German MP 18.10.2020, https://cutt.ly/Nl2zKfO.
7. Бакинский Бульвар, https://cutt.ly/Gl2zNZm.
8. Burak Ege Bekdil, "Turkish firm develops AI-powered software for drone swarms," 24.11. 2020, https://cutt.ly/Ql2z3RH.