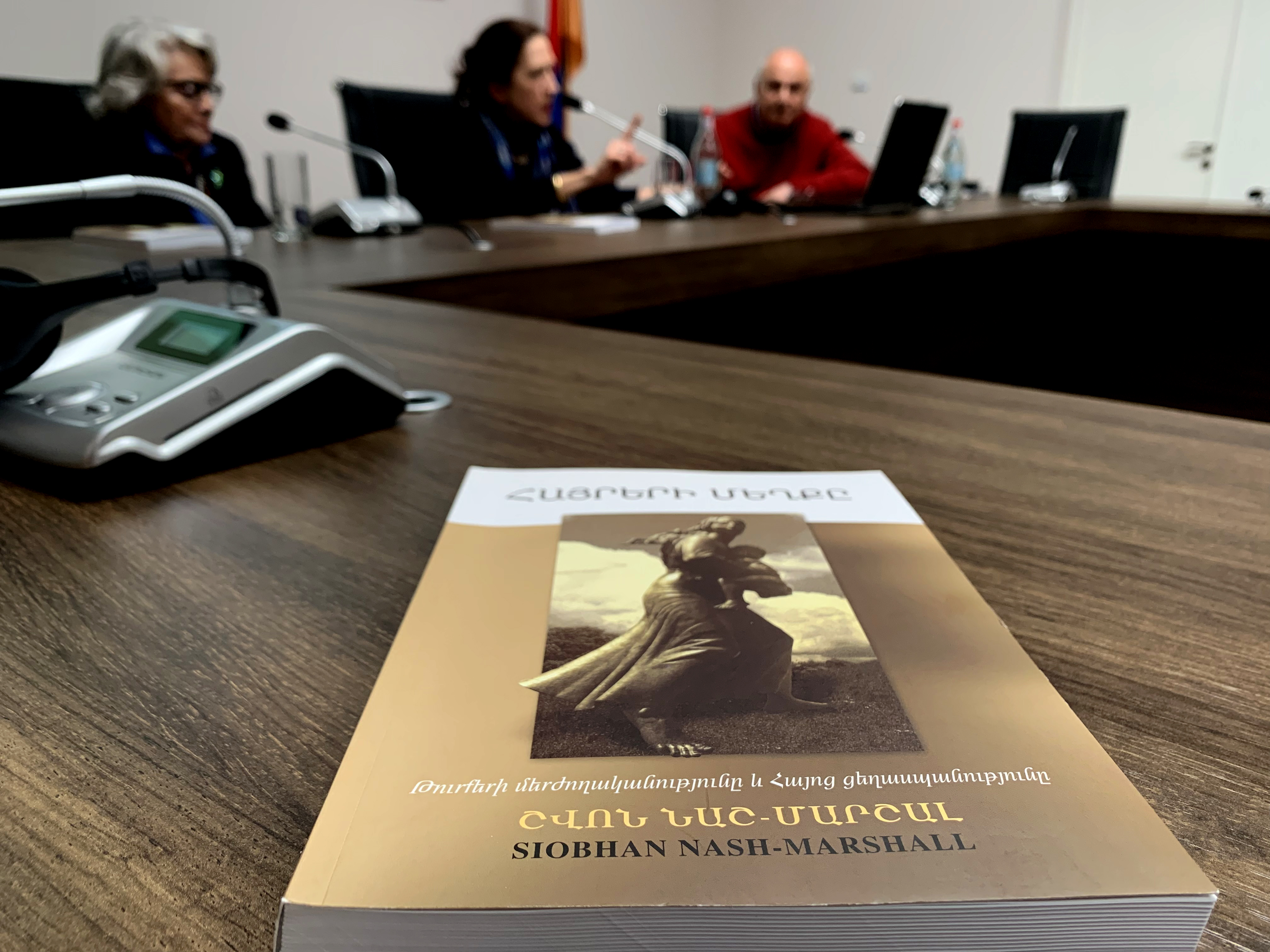 Today at the Conference Hall of the Armenian Genocide Museum-Institute Foundation presentation-discussion of the book "The Sin of the Fathers: Turkish Denialism and the Armenian Genocide" by Siobhan Nash Marshall, Professor at New York Manhattanville College, was held.
A welcome speech was delivered by Harutyun Marutyan, Director of the AGMI Foundation.
The meeting was attended by Antonia Aslan, Professor at the University of Padova and author of the bestseller "The Lark Farm," who is the author of the preface of the presented book.
"In the entire work the reader witnesses the built of the unbridled trap, which connects the parts of this death plan chapter by chapter".
"Siobhan Nash Marshal is one of the first who tries in her book to prove that the genocides committed by the Young Turks against Armenians and other nations and the denial of the crime by the Turkish Government are not separate acts and denial is part of genocide.The book is rich with documentary data from periodicals and newly discovered archival materials.
Siobhan Nash Marshal writes:
"We hear much talk today about post-truth. Journalists and intellectuals describe it as a shocking new phenomenon caused by recent electoral campaigns. They point to contemporary political statements as horrendous post-truths. Nothing is more misleading. 'Historical engineering' is not a new phenomenon. Nor are the events to which journalists point as exemplary instances of 'post-truth' particularly poignant. 'Historical engineering' is the intellectual twin of 'social engineering' and has been taking place on increasingly large scales since the dawn of the modern world. It is a consequence of the premises, methods, and ambitions of modern philosophy. This book is the first part of a trilogy – The Betrayal of Philosophy – that concerns the roots of the post-truth phenomenon. Its intent is to provide the philosophical world with a phantasm in which it can see not just thewhat of 'historical engineering,' but the why: to show the flaws of modern philosophy itself. The phantasm regards the most successful modern project of historical and social engineering: the Armenian Genocide. It includes both Turkey's 'historical engineering' – its official policy of genocide negation – and the massive late Ottoman project of social and territorial engineering which led to the murder of the first Christian nation: Armenia".
An active discussion took place after the presentation of the book.
At the end of the meeting, Hakob Khalatyan, a good friend of Siobhan Nash Marshall, performed some of Komitas works on his kemenche.